Aug. 23rd, 2014

---

---


12:00, 2:00
re-oil
4:30, 6:30


$376,344.00

$237,781.00

| | |
| --- | --- |
| | |
| $3,242.00 | $2,084.00 |

Thang Duc Thai
08/09/2014

Rollie Abella
08/16/2014

Won: $2,013.00

Won: $1,872.00





View video here if it does not automatically load:
MP4 format

Earl Kleist hits seven 9-Taps in a row worth Over $7,500.00!!

Karol Knight hits seven 9-Taps in a row worth $5,222.00
Daffodil Bowl: 08-16-2014
Big Finish for Rollie
$7,479.00 Total Paid Out
129 Entries

Our latest Champion, the one and only, 
Rollie Abella
 came out of the Final Squad on a re-entry and obviously made some critical adjustmentsafter not bowling so well in the previous Squad.  As the scores came in, we felt that Eidet's score might hold up but Rollie's #1 fan and wife, 
Maribel Abella
 stopped Steve on his way to the scorer's table and said that she thought that Rollie had done great and maybe put in the top score.  It was about that moment when Rollie's recap sheet came across our table and not only did he win, he ran away from the competition, posting an incredible 
864
!  Rollie joined the Tour in 2006 and went on to win 4 Titles in 4 years with his last win being back in 2010.  This being his 5th Title earns him the special Champions retro shirt with 5 Gold Stars, one for each of his Titles.  Rollie says that he had been in somewhat of a slump before today and as his 4 bonus pins would indicate, HE WAS!  He also mentioned that he and Maribel had just returned from vacationing in The Phillipines recently and attributes that to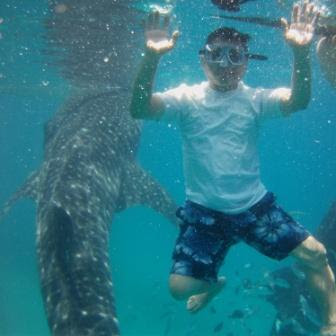 feeling "Refreshed" after swimming with whale sharks in the open Ocean (see photo).  Rollie used his
Columbia 'Violent Eruption' 
ball drilled by Norm at Kent Bowl and when asked what he was going to do with his 
$1,872.00
 in winnings said "I'm going to buy more bowling equipment".  Rollie's win places his career earnings at an impressive 
$18,766.00
.  Rollie asked us to thank everyone and especially his #1 fan & wife, Maribel.  Great bowling, Rollie and Congratulations on your 
5th WIN
!!!...
[See Full Results]